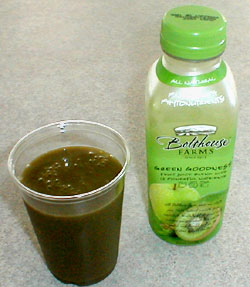 So it's been my intent to get into shape… take my vitamins, say my prayers, and believe in the power of Hulkamania, yadda yadda yadda. So when I came across "All natural… Packed with Phytonutrients [whatever they may be]…" Green Goodness, I figured hey this has got to be good for me. It's got good in it's title for Pete's sake!
I mean look at all the ingredients – Apple juice, pineapple juice, mango puree, banana puree, kiwi juice, open cell chlorella [?], lime juice, broccoli, green tea [always good], spinach, [this is a drink mind you], two types of grass, and whatever else the green grocer had at the time…
It has to be good for you.
But then I remembered that if it's good for you it'll taste like crap, Bingo. Every single ingredient is present in this "beverage's" taste, like some machination from Wonka's chocolate factory (but bad!). Even worse is the fact that all these flavors have a royal rumble over who is supreme, causing quite a bit of indigestion as your stomach is used as a turnbuckle. The winner then repeats on you… it was a tie between the mango and pineapple.
Anyway, don't bother with this stuff. It's a lot safer and more satisfying to eat the ingredients individually than to drink this soup.