"Here we have one big ass tentacle. Add a touch of eerie goodness to your home decor.
Bursting through a wall of faux bricks, this fabulous bit of cephalopod is sure to delight young and old alike." -Says the artist – Etsy username ArtAkimbo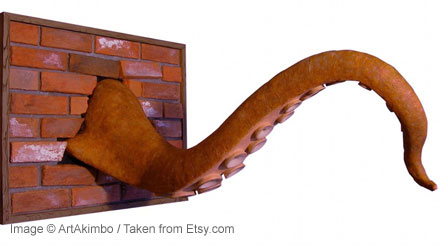 And really, what little girl wouldn't want the carbuncle of Cthulu jutting out from over her bed? Or, older girl, under her bed… The look on a little boys face when he opens that box Christmas morn and flashes back to the run in with the squid at the beach line a few months prior….
"I've included a couple of photos of how it might look in your gracious home, specifically if you happen to live in the American wing of the Metropolitan Museum of Art." – ArtAkimbo goes on to say.
Snide comments aside, it's a rather nifty looking art piece. Not my cup of tea, but I'm sure it'd fit in some seaside villa or cultist's livingroom.
The tentacle is made of foam and fiberglass, and juts out about 44" from the wall. The piece weighs in at 25lbs, though I don't know how much weight it can hold – meaning you may not be able to use it as a coat hook a la the Adams Family. Come on, you know you thought of it too.
It's one of a kind and sells for $1,200, though if Spencer Gifts had any brains (muffled comment) they'd license this bad boy.
Akimbo has some other unique (and affordable) Surreal and Dadaist pieces and prints in his shop. Definitively worth a look see.
Via Neatorama