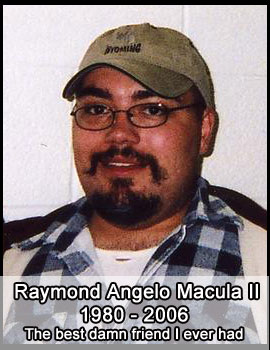 Ray Macula was more than a vital part of this site, he was... is a dear friend. Fans of this site and denizens across the net may know him better as KaiserBlitzkrieg, the name coming from his love of German culture and history.
That was one good thing about Ray... his passions were varied. From poetry to Civil War reenactment, he was an eclectic soul who could make a good argument for anything he wanted. He had the unique ability to make the logical seem preposterous and the preposterous seem logical. Yet, despite how bad he could beat you with your own words, he respected your point of view.
It was odd how we came about as friends. It was in freshman year of college. In the beginning I only knew of him from sight (he's hard to miss). He and a bunch of students were on a trip the the Jersey shore; I too was there but with a different group. I picked him out of the crowd as our respective groups passed each other and merely said "sup" and made some small banter.
Later that evening we met up again in the computer lounge of the dorm. It was were all the cool kids hung out. We picked up the banter from that afternoon (after him trying to figure out my name, ultimately calling me Rutiger because he knew it began with an "R"...), and it carried long into the night. Thus, our co-conspiracy began.
That year we frequented the local coffee house - the Pavo Java (now our forums) - enamoring ourselves with the local malcontents. There were many long nights and chess matches.
The next year, we ran the coffee house, at least for a little while. That was also the same year the Pavo was shut down, due to the sudden appearance of the second floor on the first floor.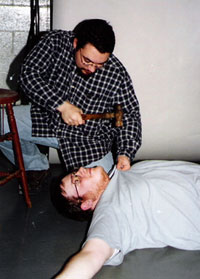 Sure, we had our differences, but who didn't?
Year three we weathered a long dorming experience with 2 unwanted roommates / criminal types. Senior year it was the student newspaper all the way. Then after college we joined forces for the New World Otter - he continuing the comic he created for the newspaper (Dementia World), creating an all new one, and writing a great deal of the content for the site. We were a team.
Then, I hadn't heard anything from him in over a month. Normally that wouldn't have seemed odd since he moved to the middle of Wyoming. However, lately he'd been on instant messenger talking a blue streak. When the messaging stopped, I got concerned. When I emailed him to see if he was OK and no response, I got worried.
Then, for reasons I still can't comprehend, I checked the obituaries. He died Jun 5th, 2006 out in Wyoming. Life is odd like that. You can read his notice in the Staten Island Advance here.
He was the brother I never had and I would not be the same person today had I never met him. To say he would be missed is an understatement of great proportions.
I cannot believe he is gone. But, where ever he's gotten to, you know he's making his mark.
Rest in Peace my brother.
---
Among his contributions to the site are his blog Journeys Down the River Booze, Words of Whizbang, Xandor the Misguided, Dementia World and other assorted reviews and sillyness. All will remain here forever.
---
Ray was one of the greatest men I have ever had the pleasure of meeting. He was a unique individual who shared similar views as myself. I am sorely going to miss him. He will forever be in my thoughts and prayers. Ray was a great friend, who left an impression on every life that he touched. RIP Ray I am definitely going to miss you.Comment by Adam & Lorraine - June 20, 2006 @ 10:35 pm
I can't fathom the pain you and his family are going through. The abruptness of his passing; the senselessness of it - I just can't believe he is gone from everywhere but our thoughts and memories. I'm sorry Ryan, if you need to talk you know where to find me *hug*Comment by Anny -" June 22, 2006 @ 7:45 pm
R.I.P.- from Staten IslandComment by Anonymous - June 23, 2006 @ 10:43 pm
Dear Ryan,
We want to thank you for the beautiful commentary for Ray. i am going back to Wyoming to complete some business and when i get back we are giving a BBQ in Ray's honor. All of his friends are invited. Ryan if you and your mom can make it we would love to have you here. it will be on a weekend and probably in august but possibly the last weekend in July. i will let everyone know and those i don't know can let others know. you were the brother he never had. thank you, again, Carol and Ray.
Comment by Carol and Ray Macula Sr. -  July 15, 2006 @ 1:07 am